Drew's 14th birthday marked new challenges for her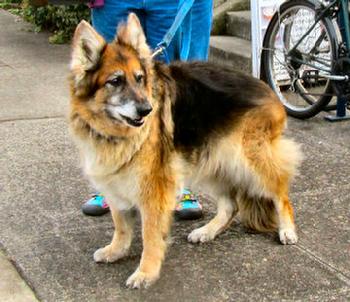 Drew always has something to say! Shown outside the Berlin Inn (now Brooklyn House) in June of 2013.
Drew first began to experience some noticeable difficulties in her back leg strength at age 8. (That was the same age her mother experienced the same thing...and she did not live a whole lot longer than that.) Eric had been taking a pair of supplements, Acetyl L-Carnitine and Alpha Lipoic Acid, for several years already, and found it completely reversed age-related muscular decline for him, and so he began giving the same combination to Drew, and it seemed to completely reverse the problem in Drew for several years.
In the summer of 2011 we began to see some slight aberrations in the way Drew handled her back legs while running and jumping in her

Whippy Ball

game, but they were subtle. In the summer of 2012, she definitely was playing a slower game, with less jumping and running. By the time the good weather and the back yard game ended in the fall of 2012, it seemed clear she would not be playing the game in 2013, and she was beginning to show signs of less ability in her back legs to hold herself fully up. Some German Shepherds have an unnatural crouch, which some breeders fancy, so she did not look as weak in the back end to those used to seeing such a crouch in German Shepherds.
The photo above was taken outside the former Berlin Inn, now the Brooklyn (neighborhood) House, a month before her 14th birthday. She was still standing reasonably well, but could not make it up stairs anymore. She had a record crowd of guests for her birthday at the Brooklyn House (

slide show here

) -- and enjoyed the meal and the celebration -- but spent most of the time lying down on a comfortable pad she received as a birthday present.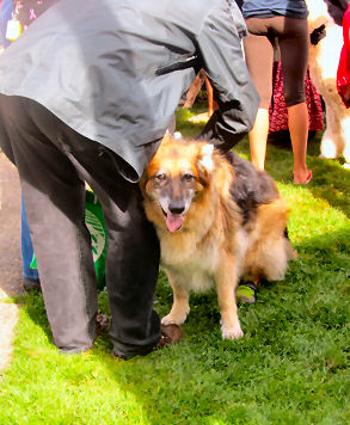 Drew appeared in the informal Eastmoreland Dog Show at Reed College in late September, 2013; although she was sagging in the back end, she walked all afternoon, and received a special honorary ribbon from the judges.
A couple of months after celebrating her 14th year, Drew was entered in her first and only dog show...an informal community dog show organized by the nearby Eastmoreland Neighborhood Association, and held on the campus of Reed College about a mile from our house. She was having increasing difficulty walking with her back legs, but she insisted on standing and walking throughout the entire event, and did walk across the stage when she was called to do so. She was sagging enough in the back end to not merit a win -- there was no "older dog" category in this, the show's first year -- but was applauded, and the master of ceremonies exclaimed "oh my goodness, it's Drew!" when she appeared. (He had dined with her previously at the Brooklyn House.) Afterward, the judges privately awarded her a special ribbon for being, in their opinion, the outstanding older dog in the show.
Because of her deterioration in her back legs, we took Drew to the VCA Clackamas Emergency Hospital for an exam, and after an MRI and a series of tests, including a genetic test for Degenerative Myopathy ("DM"), nationally known canine neurologist Dr. Kroll told us that she had Degenerative Neuropathy, which would gradually paralyze her back legs, and if she lived long enough, would eventually lead to general paralysis. He did suggest that some veterinary specialists had had some success in treating this with....Acetyl L-Carnitine! So it appeared that in addressing what we thought was just age-related muscle decline, we had actually been doing just the right thing to delay the condition for up to five years!
(We also had been giving her a general immunity supplement which we ourselves have found effective in people -- Shaklee's "Nutriferon", which has been clinically demonstrated to stimulate the body's own Interferon production -- and it turns out that in people, Interferon has been shown to retard Multiple Sclerosis, which is clinically similar to Degenerative Neuropathy; both involve the body damaging the nerve sheath fibers. So that also was inadvertently exactly the right thing to do for her too.)
But then, in mid-November, just a week before Thanksgiving was celebrated in 2013 in the United States, at 3 pm on a Wednesday afternoon, she suddenly experienced a complete loss of ability to do anything at all with her back legs. When we were able to get her back to the emergency hospital and have a second MRI taken, it was discovered that a spinal disc between the 7th and 8th thoracic vertebrae had herniated...bulging down upon the spinal chord, and essentially paralyzing her back end.
We were told by the hospital that at that point we had only two choices: To bid her goodbye and put her down at that point, or to have expensive spinal surgery to release the pressure on her spinal chord. They clearly expected us to choose the first option, and warned that the second option would not only be quite expensive, but might not work, and that she might not even survive the operation.
We pointed out that she certainly would not survive being put down, and that if she had a chance we wanted to give it to her. So the three-hour surgery proceeded. The doctors were impressed with how well she weathered the surgery, but she still had no functionality in her back legs. They warned that she might never improve (and given that her back legs were giving out before all this happened, it was very unlikely, even to us, that she would ever have much use of them again), but if there were going to be any improvements, it would be several months before they might appear.
However, within a week it was clear she retained some useful control of her tail and her excretory systems, and she was quite anxious to come home when she was able to, which was about a week later. She needed more hydrating than she was doing for herself at first, so we used subcutaneous infusion of Lactate of Ringers to make up the deficit until she regularly drank at least six cups of water a day on her own, which she was doing by late January.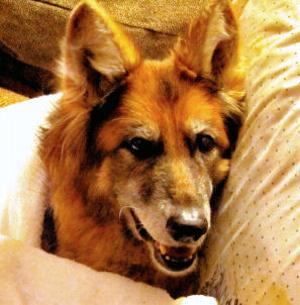 Three weeks after spinal surgery to relieve a herniated disk pressing on her spinal chord, Drew was in good spirits, recovering at home. This photo was taken December 8, 2013. But she could no longer use her back legs.
When Drew got home from the hospital, it was to a special bed made up for her in our living room. This photo was taken of her in that bed, and as you can see, the setup was a positive turn of events for her. Since she no longer could get up, it became our responsibility to make sure someone was always with her. We worked out a system by which Jane, who often slept part of the night on the sofa in the living room anyway, would spend the night with her until about 4 am, while Eric would sleep upstairs in the bedroom.
We installed a "baby monitor" so that Eric could hear if Drew announced with whines that she needed to go outside for a bathroom break, and Eric took care of that throughout the night as Jane slept. At 4, Eric would get up and Jane would go upstairs and finish the night in bed, before arising to a breakfast served by Eric and prepare to go spend the day as Lower School Science specialist (and after-school Lego Physics teacher) at

Oregon Episcopal School

in Portland.
Eric then would spend all day with her, working on the neighborhood newspaper he is editor and general manager of,

THE

BEE

, the radio industry

music testing service

he has run with Jane for thirty years, and handling responsibilities of his various civic involvements from home.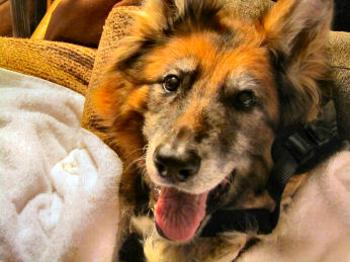 A week later, Drew was continuing her recovery from surgery, and remained cheerful. She was constantly attended around the clock, of course, since she could no longer get up and walk.
Although Eric had to stop attending most of the monthly meetings he had been going to, for the times he had to spend the day editing his newspaper at company headquarters on the day it went to press each month, and for occasional other extraordinary circumstances when both Eric and Jane had to be out at the same time, family friend Mike Sullivan MD stepped in to keep Drew company, and later licensed Animal Masseuse Kim Schwartzenberger assisted in dog-sitting.

Whoever kept her company would need to be able to deal with a paraplegic dog, and to be able to lift a dog weighing a little over 50 pounds. (She used to weigh 75; the loss was mostly in muscle mass in her back end.) In picking her up and handling her, the "Help 'Em Up Harness" was absolutely invaluable, and we highly recommend it.
Drew continued to eat and drink well and with enjoyment, and maintained a generally cheerful outlook, as these photos make evident!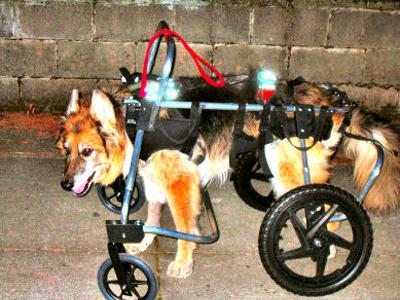 Drew received her first brief two-block walk in her new full-support wheelchair on January 21, 2014. She was able to provide some propulsion with her front legs; the rear legs were in stirrups. It takes two people to get her into and out of this, but it offered a chance for longer walks than she'd had in a while!
After Christmas of 2013 we determined to look into a "wheelchair" for Drew, so she could once again take some walks through the neighborhood which she had always enjoyed. Dr. Kroll, her neurologist, recommended a custom wheelchair designed by

Ruff Rollin

in Montana, and he further suggested we get the "full support" version (not cheap!) so that she would not have to put her whole weight on her front legs in using it.
The assembled full-support wheelchair is shown here, in a photo taken in the first afternoon in which she used it. This was for a four-block walk, and it took her a few steps to figure out even that she was supposed to walk in it. (Her rear legs are held up in stirrups). But she was a good sport and seemed to enjoy it. It does take at least two people to get her into it -- one to hold her up and lower her into it, and the other person to guide the legs into where they go as she is lowered. Then there is some strapping-in to do, and the reassembly of the support bar over her shoulders (which has to be removed to get her into and out of the chair). We have found this to be a very sturdy and well designed device, and we also recommend this to you if circumstances require something of this sort.
She took her longest walk in it on Sunday, February 2, and it was eight blocks. By the time she was done, she was rather tired, but Dr. Kroll believed that this sort of experience would be valuable in retaining what muscle tone could be maintained.
Additional setbacks Drew experienced up through this time were a flare-up of arthritis in her left elbow and shoulder, which made walking more difficult with her front legs, the discovery that she had an abcessed molar and its subsequent removal in January, and the shocking sudden death of her physical therapist and hydrotherapist, Dr. Carol Helfer, of a heart attack or similar natural cause, in mid-January. This was a particularly upsetting turn of events because we really liked Dr. Helfer and she had been making some significant progress with Drew. There was one remaining canine therapist in Portland, who was heavily waitlisted, and so far she has not had further physical therapy. However, as mentioned, one of her two dog-sitters is a qualified pet massage therapist, and she has certainly benefitted from her skill.
As the rest of winter passed and spring began at the end of March, it was becoming increasingly clear that Drew was continuing to decline physically. Nonetheless she continued to be sharp as a tack, responding correctly to whatever we said, and she retained her enjoyment of dining (fed from a fork -- more practical than ever since she now spent all her time on her side), and her constant attention from us. We by then had bought a 4-inch-thick Memory Foam mattress topper at Costco for her (twin bed size, cut in half) and it not only greatly enhanced her sleep, but it seemed to pretty much end the risk of bed sores on her by-now bony hips and elsewhere.
As the degenerative neuropathy gradually has advanced, Drew is now essentially permanently spending her time on her side, but she continues to enjoy our personal attentions and constant companionship, her appetite remains lusty, and she clearly is happy to remain part of our family -- her time has not yet come. As her doctors have all commented, she is one tough lady!

CLICK HERE

to visit her 15th Birthday party on Saturday, July 19th, 2014 -- her actual fifteenth birthday date!
Drew, and dogs in general, were the subject of a Christmastime editorial in December of 2013 by Eric, who is editor of the newspaper it appeared in -- THE BEE, in Southeast Portland, Oregon. CLICK HERE to read it.
To return to our home page, click here. Or use the navigation buttons on the upper left corner of this page to go to any of the pages on this website that you would like to visit next.