Drew's 15th Birthday party!
Because of the physical setbacks reported elsewhere on her website that she experienced during her 14th year, Drew is no longer mobile -- and, without function in her rear legs, she spends her time reclining comfortably on her Memory Foam Gel mattress, with our constant attention. She handles this disability better than any person we know would, and she remains happy in our attentions and maintains her lusty appetite -- although she only eats what will stay on a fork, since she eats sideways! Fortunately her fork skills are well developed from years of practice at her previous birthday parties, and elsewhere.
For her momentous 15th Birthday celebration, we did not feel we could return to the porch of the Berlin Inn (now Brooklyn House, named for Portland's Brooklyn neighborhood in which it is located, but run by the same staff and with similar cuisine) with her disability, and so we booked a local hall -- SMILE Station, in the Sellwood neighborhood -- and had the dinner catered in by Erica, the manager and now co-owner of the Brooklyn House.

We considered our party invitations carefully, since we wanted nobody there who would feel more maudlin than celebratory about the guest of honor; she would pick up guests' attitudes, and we wanted her to have a wonderful time. Some of the guests invited were unable to attend at the last minute; others who hadn't planned to come did make it. In the end, we had what apparently was the perfect mix of 15 guests (including Jane and Eric) and 3 German Shepherds (including Drew); nobody was maudlin, and every one of them celebrated Ms. Drew and her birthday achievement.


It was a perfect evening for Drew, and she enjoyed the attention and food so much she is ready for another birthday party anytime!

Here are some of the photos from her 15th Birthday celebration
. . .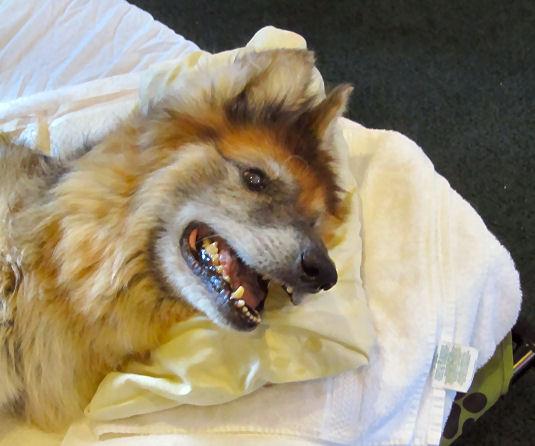 Even before the party began, Drew was enjoying the new locale, the fun atmosphere, the people who were arriving, the balloons above her bed, and the sense that something special was occurring!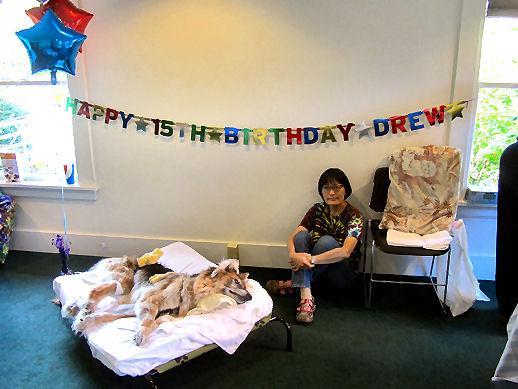 Among the first to arrive were Hsiou-Lien, John, and Long-Haired German Shepherd Gwendee, up the 70 miles from Corvallis, south of Portland. Here is Hsiou-Lien with Ms. Drew, who delighted as each new visitor came to pay their personal respects to her.
The buffet supper began to arrive from the Berlin Inn/Brooklyn House.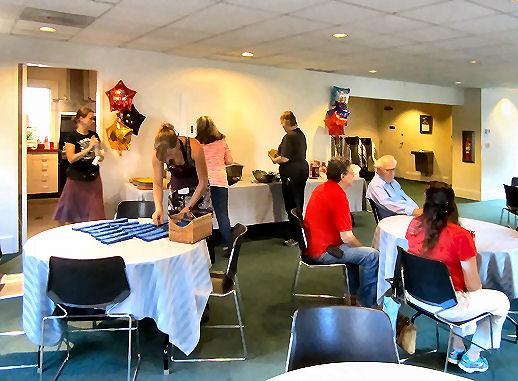 Erica from the Brooklyn House began to lay out the napkins and silverware as Jane inspected the buffet table, and other early-arrivers took seats.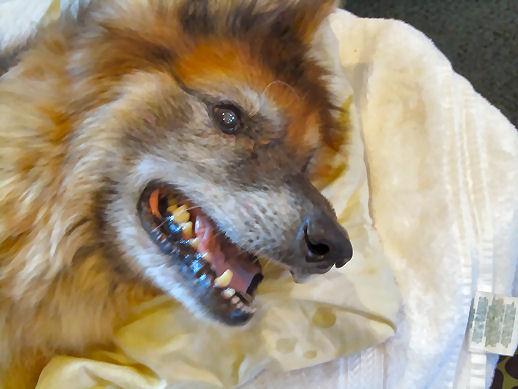 The guest of honor, Ms. Drew, was already enjoying what was her most memorable day in months -- and the party was only just getting underway!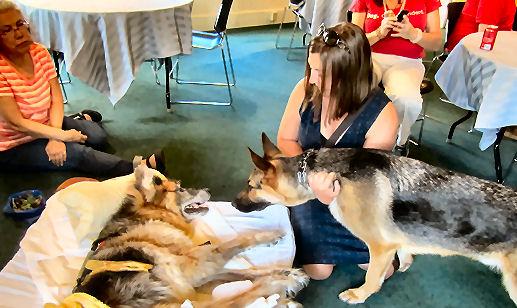 Drew and Zephyr greet each other, as Maggie arrives with her big boy. Zephyr was only about four months old when he attended her 14th Birthday party the year before; now he's a rollicking young adult, with an eye on getting a little of everyone's dinner if they will only cooperate!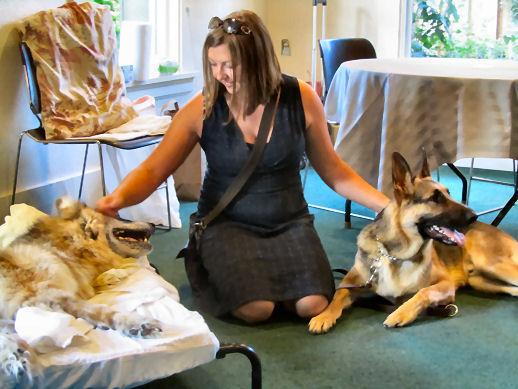 Maggie gives special attention to Drew as well as her own Zephyr. By the way, Drew wears a "Help 'Em Up Harness" to assist in her travels, and we added fleece linings to the straps to prevent abrasion from wearing it constantly, which are the tan strips visible in the photos. This harness is essential for a dog with mobility problems, and we highly recommend them.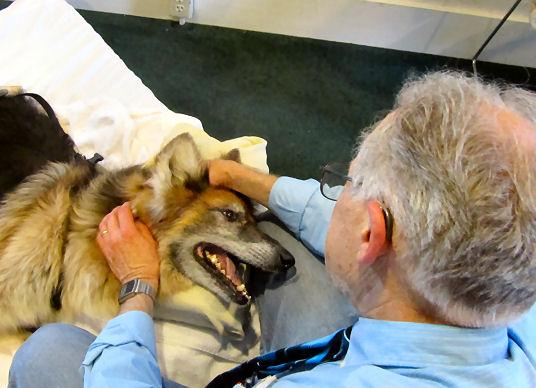 Drew enjoys a special rub from "Daddy" (Eric).
Ms. Gwendee, the other German Shepherd at the party, watches Drew getting all the attention, and ponders the advantages of being 15 and/or being disabled!
And this is what Gwendee was looking at -- Maggie giving a rub to Drew! If someone moved away from her bed, somebody else moved in, and Drew was having a wonderful time! That's Gwendee in the upper left, curled up under the piano. She really did have a good time too, as you'll see in the next photo!
Jane starts to light the 15 candles on the Carrot Cake cupcake that the folks at the Brooklyn House provided for Drew. At left that's Hsiou-Lien with Gwendee, who got out from under the piano to sit front and center in hopes of getting some of that cake!
Eric then undertook to feed Drew some of her cake. Fortunately, there were other desserts for the guests, because Drew, Gwendee, and Zephyr enjoyed ALL of her cake (after the candles were removed). Drew's was, as you see, served from a fork of course!
This time, it was John, from Corvallis, who was spending quality time communing with Ms. Drew. She was seldom alone at her party, and everybody wanted to rub her soft long hair! While Gwendee, who is part of John's and Hsiou-Lien's family, watched him moodily from under the piano, Zephyr was posing for the camera in the foreground!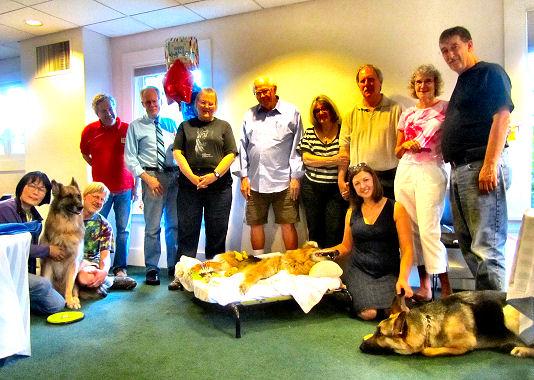 There were 15 people and 3 dogs at Drew's 15th Birthday party, but people came and went during the event, so at the time Kim Schwartzenberger volunteered to take a group photo (and thus missed being in it), here is the group that was present. It was a marvelous party for Drew -- a tough lady who continues to enjoy life at what is, for a German Shepherd, a very advanced age, and in spite of a serious disability. A few commented on their plans to be at her 16th -- we have no idea what fate may hold for Our Girl, but we hope it includes another party like this one!
This party took place on the very day of Drew's 15th Birthday -- Saturday, July 19th, 2014. We had birthday messages from a number of Drew's friends across the United States and even internationally. For those unable to be there, we hope these photos give you the sense of having participated in this very special celebration in the Sellwood-Westmoreland neighborhood of Portland, Oregon!
To return to Drew's Home Page, CLICK HERE -- or use the navigation buttons at the upper left to visit other parts of Drew's website!